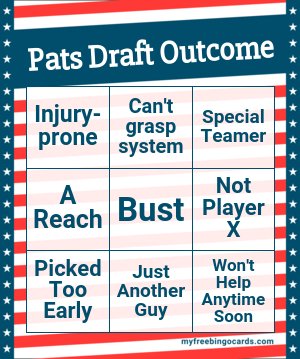 Think Before You Ink.
Can we calculate the man hours lost to the Man U/Lakers/Bama/Pats fans now switching in the Bucs on their twitter bios?
Korean baseball? Sure, why not.
For the record, we did a full body search of the new intern and found no controversial tattoos but did find some moles he should get checked out immediately.
Heres hoping that small business loan comes through for Annie Finucane.
Elevator Pitch: Florida Man and Gerry Callahan in a remake of Planes, Trains, and corona virus.
Vote Big Sey.
Man, those Pistons squads, amirite?
When did the Boston Sunday Globe stop running 'Garfield'?
JT Watkins. That's it. That's the post.
Rohrwasser? Is that Dutch? Rohr water? Was it Billy Rohr who had ice water in his veins? It all comes back to baseball, Danny.
PFWA All Pro? Not AP? PFWA? GTFO.
Cakes are cooking for Willie Nelson, Uma Thurman, Master P, and Tony Armas, Jr.
A little birdie tells me that Dr Charles Steinberg is hard at work on a vaccine.
Well, to the good, there are very likely to be hundreds of used Buicks for sale in the Commonwealth and elsewhere.
When the hell is Jen Royle gonna finally get some free publicity for her restaurant?
You think it's a coincidence the Minutemen fired on Fort Sumter on Hitler's birthday? Ok. Fascist.
What's with all these meetings on Prodigy? Or was it Zoom? I just can't keep up with technology.
Rohrwasser should tell people that his tattoo represents the 3 percent of Patriots fans who think Belichick can draft.
News Item: Von Miller tests positive for COVID-19. What, Von couldn't bribe the corona virus test man like he did the piss test man?
CONSONANTS.
Gerry and Dino just wanna play golf Tall Duval! Haven't they suffered enough?
I want Bob Ryan to get a snootful and leave a Rotillo voicemail for Nick Wright. And I probably want it right away.
Ron Roenicke, Interim. Interesting.
Try and remember that the two losses in the wild card in 2009 and 2019 are more indicative of Belichick's team building prowess than the nine AFC Championship Game appearances that they bracket.
When is @WWIIFelger going to receive a Producer credit for Kirk's show?
On the whole, I'd rather the kicker fellow didn't know the meaning of his DMB tattoo.
hey there gang, this week's Phrase that Pays is "developments in allegations amplify efforts."
That Jan from Toyota, it's always nice to see her.
He said "I could eat a bowl of alphabet soup and spit out better words than you." But you didn't. (But you didn't.) Man, you're kidding yourself if you think the world revolves around you. You know you got lots to give and so many options, I'm real sorry (I'm real sorry) 'bout whatever happened to you.
"Cassh Maluia, how 'bout dat?" Stick tap, Ty.
Worst outcome for a tattoo: Pat's new kicker or Herve Villechaize?
Where are the vacuum cleaner attachments? There's six vacuums in this house, and no attachments for any of them!
Know this: This coronavirus hasn't killed as many grandfathers as the Red Sox did.
For those wondering, the Sports Junk Drawer is regularly disinfected with Lysol and sunshine.
The PPP loan wouldn't apply to the Patriots, because they release men faster than John Dennis.
Honk if you remember Shrinky Dinks.
Is Alex Cora staying at the Patriots flophouse waiting out his suspension?
2% needs some love, stuck between the Outlaw Biker 1% and the Right Wing Militia 3%.
If MLB players refuse to play in Arizona under quarantine, I bet Lou Merloni is ready to scab again.
Why won't someone give Dave Portnoy some ricin to unbox?
Best bet for the weekend: It's gonna be cold, it's gonna be gray, and it's gonna last you for the rest of your life.
material from interviews, wire services, Facebook, TikTok, other writers, league and team sources, Ty Anderson, and #the15, were used in this column.