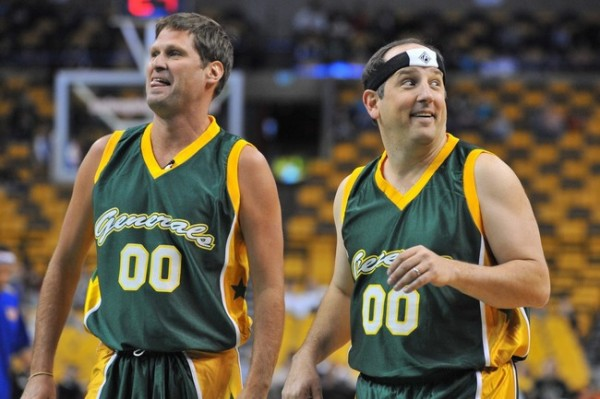 It's like I always say; you have no margin for error when playing Game One of the Eastern Conference Finals against the Miami Heat at the NBA bubble in September.
Yawn. I like US Open tennis final matches that build up America.
Someone please tell Steve Roenicke that tanking teams are supposed to lose.
'Cam Newton might have run for three touchdowns, if he had eaten a ham sandwich pregame.' – Ben Volin, probably.
How are the spiders getting into the house?
I've made a slight change to the pronouns in my bio and that's all I'm gonna say about that.
Terry Bradshaw shouldn't buy any green bourbon whiskey.
Cakes are cooking for Rosemary Casals, Lenny Clarke, Robin Yount, and Alexis Bledel.
Nat Weiner is a free agent. Hard to believe.
Might be too little too late Islanders.
Well, I for one though Dan McNeil was complementing Maria Taylor's 'fit!
Does Fitzy have another personal account where he tweets about all his Greek aunts and how they do funny dances at weddings and try to put stuffed grape leaves in every meal?
Personally, I watch every non-live-sports show on NESN.
Whomever it is … Andy Reid or Eric Bienemy, they have some great route concepts!
Suddenly, there is a real RB market. With Christian McCaffrey leading the way and Joe Mixon, Dalvin Cook and Alvin Kamara more recently, the best backs in the NFL are getting paid.
Netflix should make a Cuties 2 starring Griffin Holt and Deuce Tatum.
Gunter glieben glauchen globen.
Always enjoy dweebs on the socials racing to be the first to say 'don't blame the refs' right after the refs do something ghastly.
Sure TikTok is ChiCom spyware and is normalizing filming things in portrait mode, that's probably why they're advertising during NFL games.
I'm already furious about the paltry return Boston is going to get trading away Tanner Houck.
Don't google Payne Stewart.
With Halloween around the corner, a suggestion that a white sock, some ketchup, and a mask around your neck makes for both a timely and nostalgic costume.
That Skyrizi (Risankizumab-rzaa) song is catchy.
Knock-Knock. 'Who's there?' Mason Sousa. 'Mason Sousa who?' EXACTLY.
Anytime you can throw your new superstar QB under the bus you have to do it. If that was one of Archie's boys he did that to, Coach Kangol would already be fired.
Schweppervescence!
So I check my second fantasy football team and the guy I'm playing, get this, he had Miles Sanders, you know, on the Eagles? in his starting lineup, and he was listed as 'out' due to a hamstring, and I was like, you gotta pay attention pregame injury announcements dude, and then I look at my third team, the one that was autodrafted, and wouldn't you know it, Sanders was in MY starting lineup! I still somehow won that game. Classic.
Hello Fellow nepotists, the phrase That pays this Week is "Mike , Turn put the Lights the Tampa Party is over."
Breer DIAF. How's that for a hip nickname?
Timely Threes! Until they weren't.
Do you qualify for your SAG card if you appear in a Fitzy 'Shit Pats Fans Say' video?
Slim-fit shirts. Is that aspirational, or just poor business to be selling those to America? Good luck.
Ted Johnson's face is its own positive PED test.
Johnny Most's kid should throw Ordway down the the stairs. Grandkid?
Kirk is so mad he's gonna hold his breath until he dies and then Skip will be soooooo sorry!
Things are gettin' clearer, yeah I feel free, to bare my skin, yeah that's all me. Nothing and me, go hand in hand. Nothing on my skin; that's my new plan. Nothing is everything.
Honk if you remember V66.
Who relived cloud-yeller emeritus Bob Ryan from the journalistic trenches so he could have a gay time watching Johnny Weir?
I don't know who needs to hear this, but Fentanyl is bad.
Never walk by the electric meter when the AC compressor and the washing machine are both running. Thing was spinning like a gyroscope.
Brie Larson is not driving that Nissan Sentra in a safe manner. She can forget Jake from State Farm, she will be lucky to have the General provide her an auto insurance policy.
Diagnosing football injuries while drinking Franzia on your couch isn't being 'in sports'. Sorrey!
Prime rib? Overrated.
Rest in peace, Jeannette Belichick.
Best bet for the weekend: a tied series.
material from interviews, wire services, Twitter, other writers, league and team sources, Coach, and #the15 were used in this column. Contents may settle during shipping.